No matter what your organization sells, chances are inbound leads (i.e. form fills, chat, etc.) account for at least some percentage of your sales pipeline. These leads are great, not only has a website visitor raised their hand and said, "I'm interested" but they have often voluntarily given at least a little bit of information about themselves – what company they work for, email address, phone number, etc. All of this information is invaluable to a salesperson as it will inform what and how they sell to that company.
Unfortunately, this happens all too rarely. On average, only about 3% of your website visitors will actually complete this process. This means an alarming 97% of website visitors will leave your website without reaching out.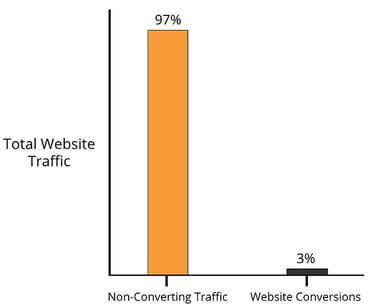 We refer to this 97% as your "invisible pipeline" – this is the vast majority of website visitors that might be interested in your offerings, but for any number of reasons decide not to fill out a lead capture form. There are countless reasons these visitors may have left without raising their hand, maybe they were just not ready to buy – maybe your contact form was too long, maybe they spilled coffee on their lap. The point is, we can't know for sure why they left, all we know is that they're gone.
While your website analytics platform may report on the total number of sessions or users your website is bringing in, these numbers lack any actionable information for sales professionals.
But what if we could tap into this? What if there was a way to see exactly who these companies are that are visiting, clicking, browsing (i.e. showing buying intent) on your website but for whatever reason have left without filling out a form? Or what if we could just pick up the phone and call them?
Fortunately, as B2B marketers we have tools at our disposal to look deeper into our website traffic and gain significant insights into the companies behind your website traffic.
By leveraging IP address intelligence to track visitors on your website you can gain an in-depth look at the actual companies behind your anonymous website traffic as well as valuable firmographic data about your website traffic, such as company name, industry, revenue, employee count, and more.
Instead of merely showing total sessions or ad impressions, imagine your sales team coming into the office each day to be greeted by a list of companies that have visited your site and shown significant buying intent, along with the firmographic traits associated with those accounts.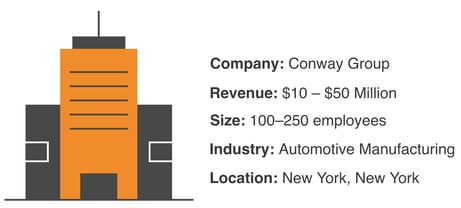 Suddenly, this anonymous 97% of website visitors becomes a list of warm leads to reach out to - allowing them to reach out at the right time and have more relevant conversations from the very first touchpoint.
Furthermore, by seeing the companies showing buying intent for products on your website, you gain a significant advantage over your competition as you can be the first to reach out to these potential new prospects – greatly increasing your chances of closing a deal.
If you want to see how IP address intelligence can supercharge your website visitor tracking, contact us to set up a free trial today!