KickFire integrates into Adobe Analytics
Identify the companies visiting your website
See the companies showing buying intent along with company firmographic data, such as:

Company Name & Website
Industry, Revenue Range, Employee Count
And more

Engage your audience with personalized content and messaging
Use Adobe Target to engage website visitors with personalized experiences based on the visitor's company firmographics

Dynamically change navigation, greeting, banner images, recommended content, and Calls-To-Action
Experiment and discover what messaging engages your audience

Deliver accurate account-level data to Analytics & Target

Expand traditional reports with valuable business intelligence
View company, industry, revenue and more beyond standard metrics

Segment visitors for account-based marketing
Automatically uncover key target accounts based on:

Company firmographic data
Target Account Watchlists
Custom first-party data attributes through KickFire's MyAPI™
Read Our Guide
B2B Intent Data for Adobe
Learn how to identify the exact companies visiting your website and deliver personalized content for your ABM strategy.
Data to Take Adobe from Good to Great!
Today's B2B marketing teams need company-focused solutions that will allow them to look beyond traditional reports to find the data that matters to them.
That's where KickFire comes in – KickFire for Adobe gives you everything you need to transform your traditional analytics into a well-oiled ABM machine. By leveraging KickFire data within Adobe, you will have the actionable business intelligence you need to:
Gain a deeper understanding of your website traffic
Drive more awareness and engagement
Bring more opportunities to your sales team
And so much more!
KickFire for Adobe is available as an Adobe Launch extension!
From Anonymous Website Visitors to Warm Sales Leads
Leverage first-party buyer intent data across your Adobe platform to see which companies are interested in your products, exactly what they are interested in, and the perfect time to reach out to them. This allows you to arm your sales and marketing teams with the valuable information they need to build tailored messaging that is more likely to resonate with your target audience.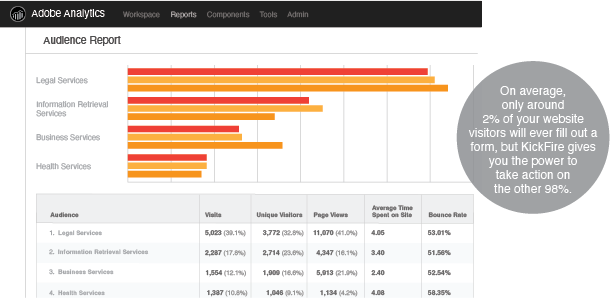 KickFire + Adobe = An ABM Powerhouse
KickFire gives B2B marketers the ability to identify the exact companies visiting their website along with valuable firmographic data, such as:
Company Name & Website
Industry
Revenue Range
Employee Count
And much more!
This data allows your team to look deeper into your website traffic to determine which campaigns are bringing in high value traffic. You can also use this data to discover potentially unknown market segments that are showing interest in your products.

Visit KickFire.com to see who's showing interest in your products!


Effectively Impact B2B Buyer Journeys
We all know that one-size-fits all messaging isn't the most effective. Today's B2B buyers make most of their purchasing decisions online before reaching out to a sales rep. With KickFire, you can streamline this process and give potential buyers a personalized experience from beginning to end.

By leveraging KickFire data within Adobe Target you can dynamically change:
Navigation
Greetings
Banner images
Recommended content
Calls-To-Action
And more!
In addition, you can A/B test your personalized content to experiment and discover what messaging engages your audience.
Custom Segmentation to power better ABM
Infuse your existing first-party data with KickFire's MyAPI™ and provide a more customizable and effective retargeting strategy by segmenting visitors based on known attributes, such as:
Firmographic profile
Target account watchlists
Custom eVars
With KickFire's powerful data and Adobe's robust marketing platform, you'll have the power to take action on more potential leads, deliver personalized experiences across your site, and drive more effective sales and marketing campaigns.
Ready to transform your metrics into actionable insights? Contact KickFire today!