Silicon Valley is a tough place to do business. The chances of a startup thriving in these sharky waters are low to begin with, but add on the challenges that come with doing it all without venture capital investment, and you're looking at astronomical odds of success.
That's why we are beyond excited to announce that KickFire has been acquired by IDG Communications, Inc. This acquisition brings together two industry powerhouses to deliver unprecedented value and bring customers into the next generation of account-based marketing.
As the MarTech landscape has changed over time, many companies have had to pivot and change their technology to adapt to changes in market demands, privacy concerns, and more. However, at KickFire, we have stayed true to our core competency – to bring deeper website intelligence to B2B companies – from day one. We have gone from a relatively unknown player in the MarTech space to becoming the preeminent source for first-party intent and account-level data that serves as a critical pipeline to many companies in the Account-Based Marketing world today.
When we launched KickFire, the MarTech space was in its infancy, and many people thought we were crazy. "There's no way you can get all that information from just an IP address" was a common phrase heard from competitors, partners, and even a few prospects. But we chose to ignore all the doubters and disbelievers along the way and instead, to persevere and grow our technology into the best-in-class platform it is today.
First, we would like to take this opportunity to say a wholehearted thank you to our incredible customers. None of our success and milestones would have been possible without people who are as crazy about quality data as we are. Your belief in our product and company has allowed us to focus our time and energy on developing innovations and improving our data instead of hunting for funding. You have brought us new use cases, given us quality feedback, and supported us in ways we could never have imagined. Believe us when we say we would not be writing this letter today without you.
In addition, we want to acknowledge the hard work and dedication of our amazing KickFire team (or should we say KickFire family). Over the years, we've seen our team members grow both personally and professionally. Together, we've built a company culture that revolves around doing whatever it takes to deliver top-notch data and service to our customers. Whether that means giving away fireball shots at tradeshows or moving servers in the middle of the night jammed into the back of a minivan (true story). The road has not always been smooth – we've had our share of ups, downs, celebrations, disasters, laughter, tears, and triumphs, but we can honestly say there is no group of people we would rather go through it all with than our KickFire family.
What's next for KickFire?
Our mantra has always been quality over quantity, and this sentiment isn't going anywhere. We will continue to provide our customers with the best data possible to power their ABM strategies. Here are just a few of the many exciting things we have on our roadmap:
New intent delivery methods – We will add more integrations and delivery methods to provide your team with more data in more places.
Greater global reach – As we align with IDG's global presence, we look forward to providing greater account identification coverage across international markets.
Expanded data excellence – Our best-in-class data products will continue to serve you as they always have. Together with IDG, we will focus on increasing KickFire's data strategy to provide even more accurate, actionable, and quality intent signals.
Rest assured, our journey is not ending. In fact, this is just beginning. In an ever-expanding and evolving market, we look forward to providing you with the foundational data you need to make better-informed decisions, power your sales and marketing, and grow your business for years to come!
For more information about the official announcement, please see our recent press release.
If you have any questions or would like to schedule a time to meet with our team, please reach out to communications@kickfire.com.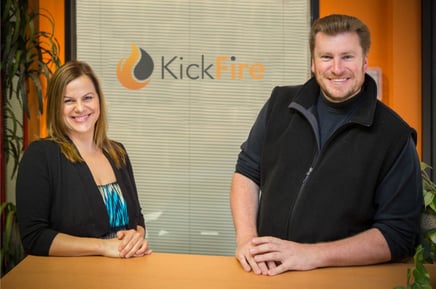 Best regards,
Stephen Oachs & Tina Bean
KickFire Founders