If you've signed into Google Analytics in the past couple of days and are no longer seeing 'Network Domain' or 'Service Provider,' you're not going crazy. This is not a mistake, not a bug, this is real.
Your reports now look something like this and you're seeing a jump in the amount of (not set) Service Providers and Network Domains:

On February 4th with almost no warning, Google decided to deprecate (permanently remove) the Network Domain and Service Provider dimensions within Google Analytics reporting. This is the reason so many marketers are now seeing Google Analytics reports that look like this image above, with nearly 100% of traffic showing as (not set) for both service provider and network domain.
The speed and abruptness of this update took many by surprise. Most assumed this was simply a bug within Google Analytics or their browser itself and looked for solutions, however, all reports indicate this was no mistake. Furthermore, it appears that this issue applies to both free Google Analytics accounts as well as paid Google Analytics 360 users equally – meaning this is not merely an issue of Google getting greedy and trying to force companies to upgrade their analytics services.
Why It Matters
The Network Domain and Service Provider issue is present in both free and paid versions of Google Analytics, and therefore, has a far-reaching impact across the marketing world. Companies relying on Network Domain or Service Provider information to provide marketing attribution, ad campaign performance, and ROI reporting will suddenly be unable to determine the source of their website traffic. This means they will have no way to see which campaigns and channels are bringing in traffic.
Another area that is likely to be affected is paid search advertising. This update will make it nearly impossible to track how many of your ad clicks are coming from real people or, as we discuss in our article on ad fraud, if the clicks are coming from a clickfarm or bot algorithm. This will leave many marketers scrambling to justify their ad spend, track ROI, and provide campaign attribution.

What Can You Do About It?
This update has not only outraged those who rely on these two dimensions but also has them searching for potential Google Analytics alternatives. For companies that rely on this data for sales, marketing, network security, or other uses, don't give up on Google Analytics just yet. There's another option that allows you to keep your Google Analytics and get the data you need.

The Solution: KickFire
KickFire makes it possible for B2B marketers to see the exact companies visiting their website along with company firmographic data, such as:
| | |
| --- | --- |
| Company Name | Company Postal/Zip Code |
| Company Website | Employee Range |
| Company City | Revenue Range |
| Company Region/State | Industry Description (SIC) |
| Company Country | Industry Description (NAICS) |
Integrating KickFire into the Google Marketing Platform allows marketers to:
Identify the companies visiting their website
Personalize website content based on company data, such as industry, company size, geographic region and more
Serve effective retargeting ads by only bidding on high-value accounts
Identify buying intent of the companies who click on their Google Ads
Connect data across marketing platforms to measure and analyze the performance of their website, digital advertising, SEO, email marketing, social, and more
Arm their sales team with daily email notifications of the companies visiting their website.
Here's what the Google Analytics dashboard would look like with KickFire data: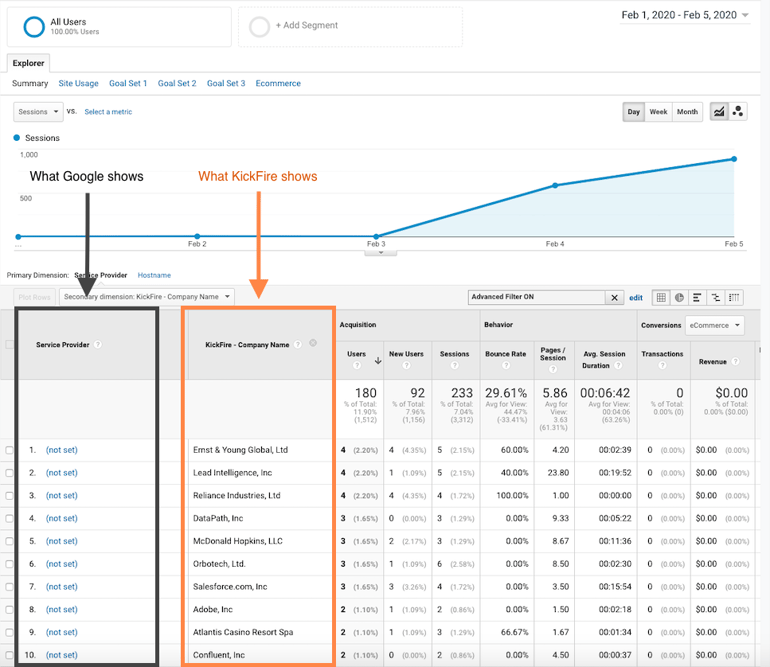 Leveraging KickFire's accurate company identification technology and firmographic data will not only provide enhanced insights into your website traffic but will also empower you to advertise more efficiently in the Google Marketing Platform. In addition, having KickFire data at your disposal means that no matter what Google decides to remove from its reporting in the future you'll be covered knowing you have all the data your sales and marketing teams need.
If you're like the many companies out there that rely on this data, it's easy to look at this update in a negative light, but the bright side of this is that it also offers you a chance to future-proof your website analytics while giving you greater insights than Google Analytics alone could ever provide.
If you want to learn more about how KickFire can supercharge your website analytics and enhance your ad strategy, visit us at KickFire.com, or contact us to set up a free trial today!