KickFire®, the leader in IP address intelligence and company identification technology, today announces a new API integration with Integrate, the leader in demand orchestration. With this new integration, Integrate users can combine KickFire's real-time account identification and engagement with Integrate's Marketplace and Demand Orchestration Solutions to automatically launch next-best-action demand generation campaigns and enhance top-of-funnel account based marketing (ABM) strategy.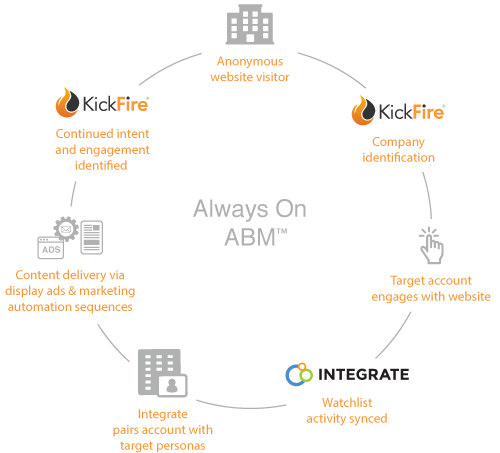 KickFire LIVE Leads™ enables companies to tap into their website's invisible pipeline by identifying account visitors and tracking engagement on target accounts. Target accounts that meet or exceed a designated lift in engagement are automatically pushed into Integrate, paired with target personas, and delivered predefined marketing automation sequences, syndicated content, and targeted ads. As the account returns to the website, LIVE Leads continues to identify account intent and engagement and trigger actions in Integrate, enabling marketers to track campaign effectiveness.
"B2B Marketing teams are recognizing the need for clean, intelligent data and the need to engage the right accounts at the right time. KickFire's new integration with Integrate's Orchestrate platform ensures an "Always On ABM" experience that helps joint customers strike while the iron is hot – at the buyer's point of consideration," said Scott Vaughan, Chief Growth Officer at Integrate.
"As an account's engagement surges, KickFire and Integrate allow you to deliver laser-focused messaging and highly individualized experiences unique to each target account," said Tina Bean, KickFire Co-Founder and Vice President of Strategic Business Development. "Your website never sleeps – we believe your ABM shouldn't either. KickFire LIVE Leads and Integrate work together to provide ABM that's always on."
KickFire also offers IP address intelligence & B2B firmographic data through its KickFire API and integrations with today's leading technologies, including Google Marketing Platform, Adobe Launch, Drift, Marketo, and many more.
About KickFire
KickFire is the leader in cloud-based B2B sales automation and IP address intelligence. The KickFire solutions are powered by TWIN Caching, an advanced, proprietary IP-to-company identification technology. TWIN Caching systematically caches and analyzes more than 340 undecillion IP addresses, going beyond traditional IP association to uncover last-mile connectivity ownership. KickFire's complete suite of solutions enables companies to tap into their website's invisible pipeline and transform anonymous visitors into actionable sales opportunities. VisiStat, Inc., doing business as KickFire, is a privately held company founded in 2005 and based in San Jose, CA.
About Integrate
Integrate, the leader in demand orchestration, empowers people to build better, faster, smarter marketing engines. Global innovators like Microsoft, Adobe and Salesforce choose Integrate's software to deliver a revolutionary approach to marketing that brings people, processes, data and technology together to drive revenue at scale. Integrate provides an advanced automation layer for top-funnel marketing efforts, so it's easy to execute programs that convert target audiences into engaged prospects. Teams save hundreds of hours per month, generate three times more high-quality sales leads, and impact four times as many opportunities. Visit integrate.com to learn why marketing leaders choose Integrate.