Can you believe it's been a year since most of us said goodbye to our offices?
It's been almost one year from the day our HR department sent out the email notifying our team that we would be "temporarily" closing our office and moving to a remote work system. Leading up to this, we had heard rumblings of the virus spreading through various parts of the world and the US, but for us at least, leaving our office was the first major sign that things were changing.
In the beginning, admittedly, we had our reservations about moving to a 100% remote model. However, despite wildly underestimating just how long we would be working remotely, we had unintentionally been preparing for a challenge like this since KickFire began.
Work/life balance has always been a priority for us, so since our office opened, we have offered our employees a few weeks at the end of each year to spend more time with their families and enjoy the holidays by working remotely. This put us in the unique position of having worked out many of the challenges of managing a remote workforce leading up to the shutdown, which meant that we were able to transition quickly without losing productivity.
In fact, over this past year, even with all the craziness happening in the world, our team has had one of the most innovative and successful years ever!
Here are just a few highlights:
For us, the question was less about productivity and more about the impact on company culture. Every organization has its own version of "culture," but what we mean is the energetic buzz and intangible connection that an office environment cultivates among everyone who works there that drives innovation and just makes it more fun to come to work every day – things that are very difficult to replicate over a zoom call. But once again, our team has absolutely smashed all expectations on this front as well. From our Zoom Halloween costume contest and team-building trivia games to our highly competitive fantasy football tournaments and even a few company happy hours, our team has not only adapted but thrived in this environment.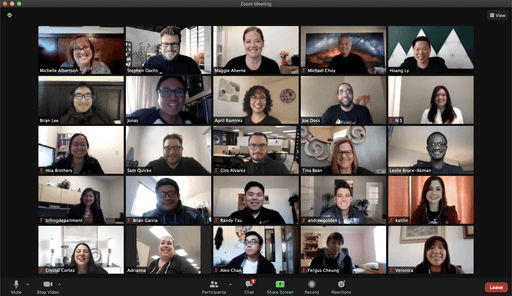 While we look forward to the days when we can once again challenge each other to a game of ping pong in the break room, play a game of basketball in the parking lot, or simply just stand next to one another in line in the cafeteria, we're beyond proud of the things we've been able to accomplish during this time. We know our team will adapt and thrive in the face of whatever challenges lay ahead.
We can't wait to see what the rest of this year has in store for us – bring it on 2021!
Sincerely,
Stephen Oachs & Tina Bean
Founders of KickFire